---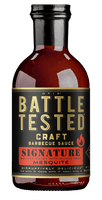 If you like kick, then "Signature" Mesquite is for you! Smokey sweet mesquite, select spices, layered flavors, and just the right amount of heat, deliver a great American Barbecue Sauce. All-natural, gluten-free, no high fructose corn syrup, no artificial preservatives. And it's not just for grilling, dip with it, cook with it, or grill with it. Plus, 5% of the profit from every bottle sold will be donated to Veteran Not-For-Profit organizations. "Signature" Mesquite give it a try... your senses will start dancing like a skyrocket on the 4th of July! It's "Disruptively Delicious®. We promise.
About Battle Tested BBQ:
Growing up, my dad, Ed Otis, a World War II Army veteran, had a great barbecue sauce recipe he got from my grandmother, I believe in the late 1920s, that he would never share. Whenever I asked for the recipe so I could make the sauce, he always told me I wasn't old enough to handle the recipe and when I was 21 I could have it. He then would make the sauce for me. For years, it was a running joke between us, but he would never give the recipe to me. At 18, I joined the U.S. Air Force and when I had turned 21, in my birthday card, written on a 3 x 5 index card was the base recipe of what is now Otis' Battle Tested® Craft Barbecue Sauce. (I still have that hand-written 3 x 5 recipe card)!
Since the day I received the recipe, I've been re-crafting it and giving the sauce out as gifts to friends and family who, for over 40 years, has encouraged me to bring it to market.
Battle Tested BBQ is based in Raleigh NC