---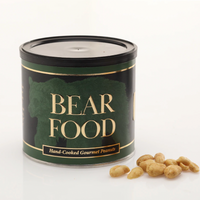 This new bold will soon become a household favorite! The mouth-watering Jalapeño seasoning matches perfectly with the crunchy, buttery taste of our hand-cooked peanuts! You will love these peanuts!

Net Weight: 12 oz.
About Bear Food:
Bear Food Peanuts are known for their classic style, superior crunch, and incredible flavor. High quality is assured through strict adherence to a time honored Bear recipe. Once opened, you'll "Bear-ly" be able to put them down!

Bear Food is based in Matthews, NC.