---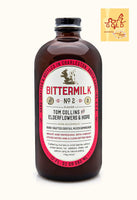 Not just your grandma's Tom Collins, we've made a refreshing Collins with floral and citrus notes. Using Centennial hops as the bittering agent prized for its aggressive floral characteristics. Mixes best with light spirits. Build equal parts No.2 + Gin or Vodka in a glass with lots of ice, top with soda water.
Ingredients: fresh lemon juice, water, Florida golden cane sugar, natural extract of Elderflower and Elderberry, Centennial hops.
2019 sofi Award winner, Gold
2016 + 2017 sofi Award winner, silver
About Bittermilk:
With deep roots in the restaurant and bar industry, husband and wife team Joe and MariElena Raya sought out to simplify the process of making craft cocktails at home.
Bittermilk is a line of cocktail mixers made for cocktail enthusiasts by bartenders with real ingredients. Crafted and bottled by human hands in Charleston, SC. The labor is in the bottle – just add booze.
Bittermilk is located in Charleston, SC.