---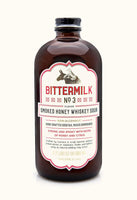 Bittermilk has revived this old classic by smoking honey over bourbon barrel staves. Bitter orange peel and lemon make for a slightly tart and smoky cocktail. Honey adds a nice frothy head when shaken vigorously. Mixes best with bourbon but swap it out for tequila to make a slightly smoky Honey Margarita. Shake equal parts Bittermilk No.3 + Whiskey with heavy amounts of ice.
Ingredients: fresh lemon juice, water, bourbon barrel smoked Georgia honey, Florida golden cane sugar, fresh orange peel.
About Bittermilk:
With deep roots in the restaurant and bar industry, husband and wife team Joe and MariElena Raya sought out to simplify the process of making craft cocktails at home.
Bittermilk is a line of cocktail mixers made for cocktail enthusiasts by bartenders with real ingredients. Crafted and bottled by human hands in Charleston, SC. The labor is in the bottle – just add booze.
Bittermilk is located in Charleston, SC.