---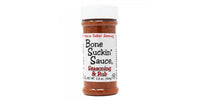 Great for: ribs, beef, pork, chicken, fish, pasta, grilling, BBQ, dipping, stir fry, seafood, marinating, vegetables, venison.
About Bone Suckin' Sauce:
Phil Ford, a real estate appraiser and father of four in Raleigh, North Carolina, developed his sauce around 1987 while trying to copy his mother's recipe for a western North Carolina-style barbecue sauce. The resulting fat-free, fragrant blend includes tomato paste, apple cider vinegar, honey, molasses, mustard, horseradish, lemon juice, onions, garlic, peppers, natural hickory smoke, natural spices, and salt."
"Folks kept telling him that he needed to do something with the sauce – like bottle it and sell it! People loved it when he gave it away, but Phil never thought anyone would pay for his sauce. His sister-in-law, Sandi Ford, owner of Ford's Fancy Fruits & Gourmet Foods in Raleigh, had years of experience in the gourmet food business and had other thoughts, She encouraged him to no avail. Then finally in September 1992, Sandi and her husband, Lynn, told Phil they'd like to be his partners in bringing his sauce to market. He'd make it and they'd give it a name and sell it. While driving to Charleston, South Carolina a short time later, Sandi was preoccupied with the task of coming up with a name. She thought about how go-o-o-d it was and how it made her do something she'd never done before — suck on the bones to get the last little bit of flavor. A name was born and the sauce was launched in November 1992.