---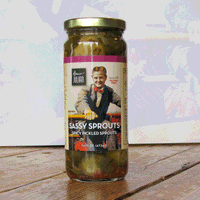 Brussels Sprouts lovers meet your match - Bruce Julian's Sassy Sprouts™ are pickled to perfection for an unexpected Bloody Mary garnish and irresistible snack.
About Bruce Julian Heritage Foods:
Bruce is a native son of Chapel Hill and a second-generation haberdasher—that's his dad, local menswear legend Milton Julian (as seen in 1938), on their label.  Today, Bruce owns and operates Bruce Julian Clothier in Charlotte, NC
Bruce Julian Heritage Foods is based in Charlotte, NC.