---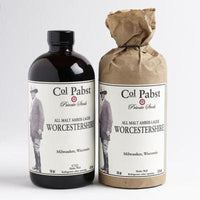 Col. Gustave Pabst was the eldest son of Milwaukee's founding brewer, Captain Frederick Pabst. Gus was known for his world travels, keen beer-tasting skills, love of animals and children, and his witty sense of humor.
He lived by the old adage, "don't cook with anything you wouldn't drink." Put his All-Malt Amber Lager Worcestershire Blend to the test, and you will see that it stands alone. His recipe starts with fresh Milwaukee beer and adds Indian tamarind, Madras curry, whole peppercorns, cinnamon sticks, and a trove of other all-natural ingredients from around the world. It's brewed in small batches, strained and then bottled. 
The recipe comes from the Pabst family, of Milwaukee brewing heritage. In addition to brewing beer, our family has been cooking with beer for generations and takes pride in sharing our tradition with others.