---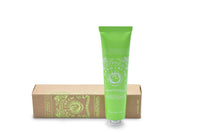 The base ingredient of this hand cream is Aloe Vera.
Key ingredients include: shea butter for it's anti-inflammatory and moisturizing properties, macadamia seed oil - a great emollient that is hydrating and restorative, and also Rosehip Oil, Meadowfoam oil, Avocado Oil, Carrageenan, Beta-Carotene and Vitamin C. All these ingredients have remarkable healing, soothing and moisturizing properties. This product is perfect for sensitive skin. The cream is fragranced with bright and fresh essential oils. 
2.6 oz tube comes boxed in foil stamped Kraft packaging.
About Murphy & Daughters:
Having worked as the buyer for the iconic Melbourne home wares store 'Market Import' for a number of years, Sarah Murphy decided to venture out by herself. Playing with the name of her great grandparents' general store in Kerang, entitled Murphy Brothers, Sarah took on the moniker of Murphy & Daughters (she has a couple of gorgeous ones). It is from this general store, that Murphy & Daughters has taken inspiration with a modern interpretation of early Australiana fauna and flora. The first line of products were the instantly successful Bon Bon Soaps. Keeping with the modern interpretation of Australiana, the bright and joyful packaging, combined with the delightful array of scents, has seen this product whisk off the shelves from wherever it has been stocked, whether in Australia, New York, Paris or London.
Murphy & Daughters botanical bath and home product is made in Melbourne, Australia with love and integrity. They source their ingredients sustainably and use ethical work practices. Their hand wrapping and packaging is done at Ability Works. Ability Works employs people with disabilities aiming to empower them with meaningful employment. Murphy & Daughters specialise in making your world look and smell better whilst enriching your soul.