---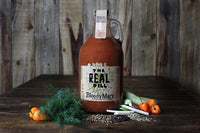 Cucumber infused water, a byproduct of The Real Dill's pickling process, is the star ingredient in their famed Bloody Mary Mix. Paired with generous amounts of horseradish, dill, garlic, and habaneros, they bottled the essence of your backyard garden, shattering the stigma that freshness can't come in a jar. Unlike most mixes, theirs only contains ten simple, high-quality ingredients bursting with bold, rich flavors. Bright, vivacious, and spirited, The Real Dill has set a new standard for what Bloody Marys can and should be.
Vegan
Makes 4-8 Bloody Marys depending glass size
Mix with any spirit you fancy! Tyler and Justin prefer it with tequila, and it also goes great with vodka, beer, gin, whisky and scotch.
Made with nine simple, all-natural ingredients 
Medium spicy
About The Real Dill:
This company is relentlessly committed to making the absolute best products of their kind, and when it comes to quality, they make no compromises. This means they only use the finest fresh, natural ingredients that you recognize from your pantry or garden. None of their ingredients are created in a test tube. They proudly handcraft all of their products in small batches from scratch, in Denver Colorado, with care, intention, and love.
The Real Dill is located in Denver, CO.