---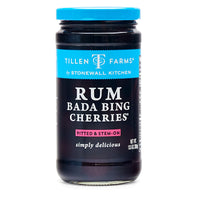 If you like piña coladas (and getting caught in the rain), look no further: These Northwest-grown, pitted and stem-on cherries deliver a tropical twist to any drink, thanks to a generous splash of rum. Add them to decadent desserts, savory cheese plates and of course, your favorite tiki cocktail or rum punch!
---
Tillen Farms sets the bar high for how cocktails should taste. From crisp pickled veggies to American-grown cherries to sassy syrups, these garnishes and add-ins celebrate produce that's picked at the peak of ripeness for year-round enjoyment. Perfect for mixing and mingling with your favorite drinks and dishes, these exceptionally delicious products are the start to all sorts of spirited fun!
Non-GMO and free from any artificial preservatives
Contains none of the eight most common allergens
Also try their Spicy Dilly Beans!
About Tillen Farms:
Introduced in 2004, the Tillen Farms brand features a line of 12 "best in class" cocktail garnishes, sold to the grocery, specialty, health food, liquor and food service classes of trade. Tillen Farms pickled vegetables are primarily grown in Washington's famed Yakima Valley and are available in several different varieties of asparagus, dilly beans, carrots, and snap peas. Tillen Farms popular pitted and stemmed cherries are locally grown in Oregon's Willamette Valley, and include popular varieties like Bada Bing, Merry Maraschino, and Rainier Reserve. Made with no artificial ingredients, Tillen Farms' unique processing technology ensures an exceptional degree of crispness year round. A SOFI award Finalist in the appetizer category, Tillen Farms' vegetables and cherries are gluten-free, vegan and nut & peanut-free and most varieties are kosher certified and non-GMO certified.