---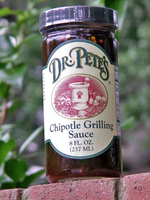 Do you need to zest up a dull meal? Want to put excitement in every bite? Then Dr. Pete's Chipotle Grilling Sauce is just the ticket. Sweet and spicy with a rich depth of flavors, this sauce can transform chicken, pork, ribs, brisket, or tuna into meals chefs would envy. It's even terrific over cream cheese. Brush or spoon sauce on meats during cooking and serve on the side for added flavor.
About Dr. Pete's:
The small southern town of Ailey, Georgia is now home to Dr. Pete's Foods. We are known for our delicious marinades, sauces, dressings, baking mixes, and the famous Praline Mustard Glaze.
Dr. T. A. Peterson, known as Dr. Pete to his patients, was reared in this sleepy south Georgia town. It was here that he enjoyed many meals with family and friends and learned to love entertaining with great food. After becoming a doctor, he was often seen with his worn, black leather doctor's bag in hand entering homes around Savannah, Georgia, to check on a broken bone, to give a shot, or administer a friendly dose of good conversation.
As much as Dr. Pete loved his practice of medicine, he equally loved the art of cooking, and he spent many joyous hours creating and preparing wonderful dishes and sauces for his family and friends. In 1985, his daughter and son-in-law, Jan and Joel Coffee began bottling some of his recipes and selling them to the public under the "Dr. Pete's" label. Now you can enjoy the marinades and sauces that Dr. Pete's family and friends have enjoyed for years. Welcome!
Dr. Pete's is based in Ailey, GA.