---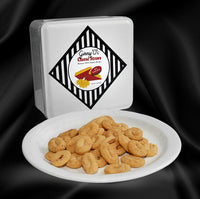 9 oz. of Ginny O's Cheese Straws individually wrapped in three clear cellophane bags.
Baked with all-natural ingredients—cheddar cheese, butter, and spices. Serve whole as an appetizer or crumble for chicken, fish, and casseroles. Pairs well with wine, beer, spirits. Makes a great gift for all occasions.

A NOFO favorite made in Raleigh by Raleigh native Ginny Johnson.
Ginny O's Cheese Straws:
ARE ALL NATURAL
HAVE NO MSG
HAVE NO PRESERVATIVES.
HAVE A TEN MONTH SHELF LIFE
CAN BE FROZEN so there will always be some on hand to enjoy