---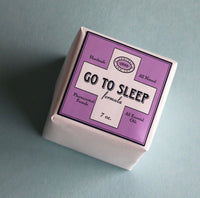 Essential Oil Bath Bomb for Sleep-Aid. Each huge bath cube has been lovingly hand-crafted and formulated to heat and delight!
Ingredients:
Sodium Bicarbonate (Baking Soda)
Citric Acid
Valerian
Mugwort
Spirulina
Gota Kola
Essential Oil of Lavender
About Jane Inc Products:
Jane Inc. is a mother and daughter owned company established in 1992. All of their products are handmade in the USA of quality, natural ingredients. From Jane's herb garden in the 1970s to the dried lavender in their Eye Pillows now, there is a consistent line of nurturing and love – or comfort and joy - which is their company motto. We believe in transparency in ingredients and a simple integrity in all of their business dealings.