---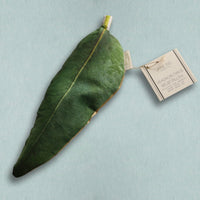 This pillow is a collaboration between Plantillo and Jane Inc. Plantillo brings the outdoors in with beautiful photo-realistic plant shaped pillows.
With an Organic Cotton Eucalyptus Leaf Print front and a cooling Natural Silk Charmeuse back, this pillow covers the sinuses with the pleasant weight of flax seeds to relieve sinus pressure, eucalyptus to open sinus passages, and peppermint to soothe headaches. Place over eyes and sinuses and lie back and relax. Can be chilled in a plastic bag in the freezer and used cold for added relief.
Spot clean. 4.5" x 12".
About Jane Inc Products:

Jane Inc. is a mother and daughter owned company established in 1992. All of their products are handmade in the USA of quality, natural ingredients. From Jane's herb garden in the 1970s to the dried lavender in their Eye Pillows now, there is a consistent line of nurturing and love – or comfort and joy - which is their company motto. We believe in transparency in ingredients and a simple integrity in all of their business dealings.