---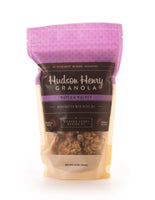 This is the mix that comes without coconut for those folks who aren't a fan.  It's also for those of us who simply love walnuts.  Simple as that.
Ingredients: rolled oats, pumpkin seeds, sunflower seeds, walnuts, almonds, real maple syrup, olive oil, brown sugar, vanilla, cinnamon, sea salt
About Hudson Henry Baking Co.
I like to think our story begins the moment we walked up the front steps to our new home, an old B&B in Virginia. My husband David had come out before us and then Hudson, Henry, and I arrived from Texas with suitcases in hand. David and I were ready to dedicate our days to raising our boys in the country, running the business of our dreams, and savoring the simple things.
We decided to pour these values and ideals into a business, with the dream that they could have some small impact on more people's lives. I knew baking was the perfect medium, and I began infusing my recipes with the highest quality ingredients I could find, like big flake coconut, real maple syrup, crunchy sliced almonds, and pumpkin seeds. After all, what better way to inspire and uplift others than with an everyday treat like tasty granola?
We sold our first bag of granola at the Charlottesville City Market in October 2012 and found our products on the shelves at Whole Foods a few months later. And within a year, Hudson Henry Granola was featured on The Today Show.
Soon, the emails started pouring in and never stopped. From Atlanta, Pennsylvania, California, and beyond. Turns out we're not the only ones that can't get enough of the granola – and, more importantly, the positive messages that come along with it.
Today we are a thriving little company employing stay-at-home moms, retirees, college kiddos, and high school work/study students. We hope our granola brings a little more joy to your day and inspires you to carry that joy to others. We hope you love it by the spoonful – or by the handful (no judgment here). And we hope you enjoy sharing it over the kitchen table or gifting it to your loved ones.
While you're here, we encourage you to learn about our small + mighty program and some of the charities that have benefited from your granola purchases.
With gratitude,
Hope, David, Henry & Hudson