---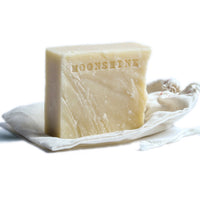 All natural soap with sea salt.  A refreshing woodsy note awakens your senses, while the classic scents of MOONSHINE, a gentleman's cologne burn down after use.  All soaps are handmade, hand-cut, and are comprised of 100% all natural ingredients.
(4.5oz)  All Natural Soap with Sea Salt. Due to the nature of cosmetics, all sales are final.
About East West Bottlers:
EastWest Bottlers is a privately owned company based in Austin, TX. Founded by three Southern gentlemen hailing from Texas, Tennessee, and North Carolina - all by way of time spent together in Athens, Georgia - EastWest Bottlers is committed to providing authentic and compelling products to a market overrun with celebrities and major brands. With an emphasis on small batch processing, homegrown business practices, and Southern values, EastWest Bottlers prides itself on taking care of its customers while bringing unique and captivating products to ladies and gentlemen all over the world.
EastWest Bottlers is based in Austin, TX.