---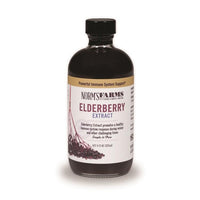 Norm's Farms Elderberry Extract is made from farm-fresh North American elderberries (not from European concentrate). Their Extract formula is very simple…they use a gentle water process to extract the elderberry and remove the seeds before it's bottled.
About Norm's Farms:
Norm's Farms, originally founded in 2013 by Ann, Rodger, and Erin Lenhardt in Pittsboro, NC, began as a way of carrying on Norm's work and vision. The Lenhardt family developed a line of products featuring their home-grown elderberries and a simple, clean ingredient list. In 2017 the Mareth and Bennett family farmers joined the Lenhardts to make Norm's Farms the first vertically integrated three family business focused on the American elderberry in the United States. Norm's Farms believes in the sustainable production of healing foods made with natural, simple ingredients--just like the elderberries Norm's Farms grows on their three family farms.
Norm's Farms is located in Pittsboro, NC.