---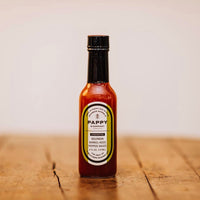 Hot sauce aged in Pappy's bourbon barrels in Louisville, Kentucky.
Made with Midland Ghost (West Central Georgia) small-batch Ghost Peppers, blended with mild red peppers and aged in Pappy's bourbon barrels to infuse it with rich, smokey heat.
Finalist for the 2019 Good Food Awards.
"The versatility of this hot sauce is just one of the many things we love about it, as the bold smoky flavor and that just right kick of heat mean you can slather, pour and dash to just about everything you eat or drink."