---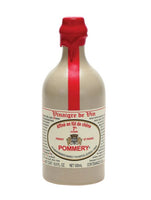 This vinegar is manufactured with carefully selected wines to obtain a product of high quality.
It has ripened a long time in very old tanks in oak and during its development, this vinegar was the subject of attentive care to ensure its subtle flavor and its particular bouquet.This vinegar is conditioned out of stoneware bottle of 50cl with a natural cork stopper covered with wax.
Ingredients : Wine vinegar 7% acidity, contains sulphite.