---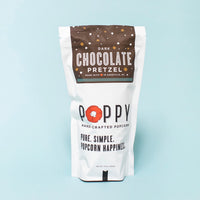 The ideal mix of salty and sweet.

Poppy's famous Salted Caramel drizzled with the French Broad Chocolate™ dark chocolate. Add in delicious caramelized pretzels and you have the perfect cure for all those persistent salty and sweet cravings.
You're welcome!

9.5 oz bag
About Poppy Hand-Crafted Popcorn:
Ginger started Poppy for one simple reason: she wanted to be there for her kids' school programs, baseball games, and performances. She had a job she loved, but it didn't offer much flexibility or growth. Unfortunately, there weren't a lot of jobs in her adopted home of Asheville that did. But she noticed that Asheville did support its small businesses. She thought long and hard about what business she could open, and it occurred to her that while Asheville had many things, it didn't have a little local popcorn shop. Ginger had grown up with one in her hometown and she loved it. As an adult, she often found herself searching for popcorn shops in cities she visited. 
In late 2014, armed with a hard work ethic, one popcorn machine, and a clear vision of what she wanted Poppy to be, Ginger opened up shop.   
She wanted Poppy to be simple, fun, well-designed, and of course, tasty, without a lot of the icky ingredients found in other popcorn brands.  Customers loved it . That first holiday season, some happy customers asked Ginger if she could ship Poppy to their family, friends and business customers. Then those people called and asked her to mail some to their family, friends and business customers. And as word spread, retailers started calling to ask how they could carry Poppy in their stores. From there the wholesale business was born. But just like Ginger didn't want her popcorn filled with icky ingredients, she wanted to keep her business local, homegrown and fresh too. Instead of sourcing out the production as so many wholesale snack companies do, Poppy is still hand-crafted, batch by batch, in Asheville. That way Ginger can see and taste that the popcorn going out across the country is every bit as good as the popcorn that's popped daily in the retail shop. 
Poppy's corn is grown in the heartland, their packaging is designed in Asheville, and printed in the USA. And, instead of their operations creating jobs elsewhere, Poppy creates jobs right at home, in Asheville, NC. As a single mom of two with a big dream to create a business that would afford her the life she dreamed of, Ginger has been humbled by all of the support her growing community has shown her, and she wants to pay it back, by supporting others in return, just as much as she can.
In 2019 Ginger was named Entrepreneur of the Year by Venture Asheville. Poppy's sales have grown 150% over the past year.  And Ginger has been able to spend lots of snow days, sick days and random fun days with her kids. 
Poppy Hand-Crafted Popcorn is located in Asheville, NC.