---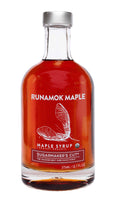 This batch of Sugarmaker's Cut is graded as: Grade A: Amber Color – Rich Taste
12.7 FL OZ bottle
About Runamok Maple:
Runamok Maple produces infused, smoked and barrel-aged maple syrup along with their pure maple, called Sugarmaker's Cut. This company loves pure maple syrup but has discovered that the potential for taking it in new directions is limitless. Maple marries exceptionally well with a variety of flavors. Some of them are tried and true like cinnamon and vanilla and some are unexpectedly out of this world. Their barrel-aged syrups have taken this North American treasure to a whole other level.
Runamok Maple is located in Fairfax, Vermont.