---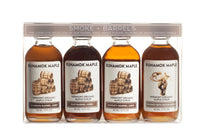 The complete collection of Bourbon barrel-aged syrups, plus pecan-wood smoked maple syrup.
The set includes four 2 oz. bottles: Bourbon barrel-aged, Rum barrel-aged, Whiskey barrel-aged and smoked with pecan wood.
Thinking of giving a gift, but don't know which flavor to choose? These pairing collections are meant for you. Each set represents a sampling of some of Runamok's favorite smoked, barrel-aged and infused maple syrups, hand-picked for elegant options. A great stocking stuffer or hostess gift, each is scrumptious and unique, bringing a new kind of maple syrup, not only to the breakfast table but also as a cocktail mixer and an ingredient in recipes both sweet and savory.
About Runamok Maple:
Runamok Maple produces infused, smoked and barrel-aged maple syrup along with their pure maple, called Sugarmaker's Cut. This company loves pure maple syrup but has discovered that the potential for taking it in new directions is limitless. Maple marries exceptionally well with a variety of flavors. Some of them are tried and true like cinnamon and vanilla and some are unexpectedly out of this world. Their barrel-aged syrups have taken this North American treasure to a whole other level.
Runamok Maple is located in Fairfax, Vermont.