---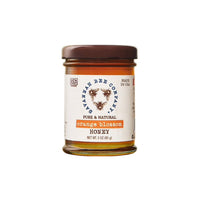 Tasting Notes: very sweet. Finishes with subtle citrus notes.
Region: Central Florida
Pairings: Ideal for roasted carrots or drizzle over buttery French toast. Try as a dip for fresh figs, strawberries, and melon.
Orange Blossom Honey is floral, fruity, and incredibly aromatic. It can add dimension to many foods, drinks, and sauces, and is particularly good for baking.
This fragrant, light amber honey comes from sunny Central Florida, an area of the US famous for its abundance of orange groves. Beekeepers from around the nation bring their hives here in March and April so the hardworking honeybees can pollinate the blossoming trees, which allows us the pleasure of having oranges to eat.
The bees also collect the fragrant nectar from the orange blossoms and turn it into a delicious, candy-sweet honey. As soon as the trees lose their blossoms, these skilled beekeepers extract the Orange Blossom Honey, making sure to keep it separate from the other spring honey.
Orange Blossom Honey is our earliest harvest of the season and a sure sign that summer is on the way. It's like sunshine in a jar!
About Savannah Bee Company:
Ted Dennard is the founder, president and head beekeeper of Savannah Bee Company. Growing up in Coastal Georgia, Ted's journey into the magical world of bees and honey was sparked by an elderly beekeeper, Roy Hightower, who believed in beekeeping as a way of life. Ted's passion hasn't waned a bit, even after 35 years. Ted backed into business in 1999 when his friend opened a store in Savannah and began selling his Tupelo Honey. Three years later, Savannah Bee Company was officially born. Today, Ted remains dedicated to sharing the world of bees with others and introducing new honeybee products to market. He loves his family and surfs when he can.
Savannah Bee Company is based in – you guessed it – Savannah, GA.