---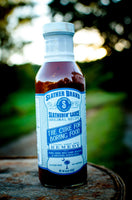 Touted as The Cure for Boring Food®, this gourmet cooking and finishing sauce is a unique blend of all natural ketchup, gobs of natural honey, sweet pineapple, crushed red peppers, garlic, and other spices. It is gluten free and contains no high fructose corn syrup, no artificial sweeteners, no preservatives, and no artificial coloring or flavors. It is a delicious remedy for fowl, pork, beef, game, seafood, and anything else worth eating, even tofu.
16 oz. bottle
About Slather Brand:
Slather Brand Foods' genuine heirloom recipes originated in the kitchens of Robin Rhea's mother and grandmother. They believed then as she does today, that the food they serve their loved ones should taste delicious and be made with wholesome all natural ingredients. Each bottle of Slatherin' Sauce is filled with a rich history of passion for food and a commitment to healthy eating without compromising flavor. Slather in it on!
Slather Brand is based in Charleston, SC.