---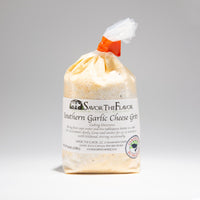 Look no further! These Southern Garlic Cheese Grits will not disappoint. A delicious twist on an old southern favorite. Pairs perfectly with shrimp to create the classic southern dish, Shrimp and Grits, or fry an egg and eat it for breakfast. Delicious any way you serve it.
8 oz. bag
About Savor the Flavor:
Betty Lee Brunson founded Savor the Flavor in 1992. She had recently retired from teaching and was spending more time in the kitchen as well as reading her cookbooks. She sure could throw down in the kitchen and so began her endeavor of owning a catering company. She quickly realized that was more than she could handle and she decided to focus on packaging a few of the rice mixes she had come up with. Betty Lee and her husband, Scriven, made their way up and down the east coast and presented their products to seafood markets and specialty food stores they happened upon. She presented each with a bag, told them to give it a try and call her when they wanted to place an order. Nearly three decades later, the phone is still ringing. It looks a little different now, but the mission remains the same. At Savor the Flavor, Betty Lee's family is working hard to share her legacy of love and tradition through food. 
Savor the Flavor is located in Sumter, South Carolina.