---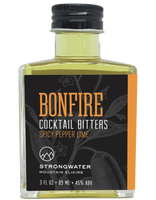 Bonfire spicy bitters are the perfect blend of spicy peppers and bright citrus lime notes to accompany your Bloody Mary, Margarita, or Spicy Mezcal Cocktail. With so much more flavor and complexity than just a single spice, Bonfire carries with it vegetal notes, bright lime zest, kaffir lime leaves, as well as a symphony of multiple hot chiles and peppers that include Habaneros, Jalapenos, Ghost, and Hatch Green Chiles.  
Botanicals: Habanero, jalapeno, hatch green chile, lime, kaffir lime leaves
Benefits: Anti-inflammatory and weight loss
Pairings: Tequila, mezcal, bloody mary, or try it in food!