---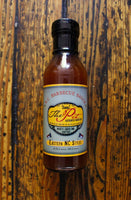 The Pit's tangy-sweet vinegar-based Eastern North Carolina barbecue sauce is made from many of the same ingredients that have been used at Pig-Pickin's in Eastern North Carolina for more than 350 years, when the first North Carolinians settled in the coastal plain of North Carolina. Their tradition was to roast split whole hogs over wood coals and to anoint the crispy-yet-succulent meat with the English "catsup" of the time: vinegar enlivened with salt, hot peppers and, occasionally, a dash of oyster juice for flavor. (Tomatoes were not commonly consumed in colonial days, as they were thought to be poisonous.)
Thus, the whole hog, live coal-roasted barbecue of the east—along with its vinegary, tomato-less sauce—became America's first form of barbecue. 
Our pulled whole-hog pigs taste great right off the grill after being slow-cooked for 12 hours. But add our tangy vinegar sauce when chopping the 'cue for a sandwich makes it pure Eastern North Carolina. What makes it so special? Our signature blend of apple cider vinegar, hot pepper sauce, sugar and spices. Hot. Tangy. Sweet. All in one bite!
About The Pit:
The Pit, created by legendary pitmaster Ed Mitchell and restauranteur Greg Hatem, is a celebration of all of the great culinary offerings of the Old North State. The Pit has made a name for itself as the destination for the state's signature cuisine. The pigs used to produce the barbecue are all raised in North Carolina using free-range farming practices, and the freshest of the state's bountiful produce is featured in the starters, sides, and desserts.