---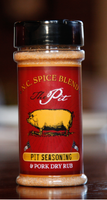 This rub is perfect for hogs on the grill. It's also tasty on ribs, pork chops, and tenderloin. Try it on grilled veggies or to spice up a homemade dressing.
About The Pit:
North Carolina is known for its legendary barbecue joints. The Pit proudly continues this tradition by serving authentic whole-hog, pit-cooked barbecue at The Pit in downtown Raleigh's warehouse district. A celebration of all of the great culinary offerings of the Old North State, The Pit has made a name for itself as the destination for the state's signature cuisine.
The Pit's barbecue, ribs and Southern sides have helped them get plenty of attention from the media. They won a rib challenge on Food Network's "Throwdown with Bobby Flay" and competed on "Chopped." The Pit has been on The Travel Channel's "Man v Food" and was included in a barbecue cook-off on NBC's "The Today Show." The restaurant also has been included in cooking segments on ABC's "Good Morning, America" and "The Morning Show" on CBS, and has been featured in Bon Appetit, Southern Living, Men's Health, GQ, Imbibe, Delta Sky and Food Network magazines.
The Pit is located in Downtown Raleigh, NC.