---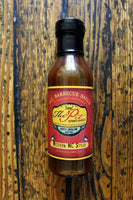 This tomato-based Western-style sauce is delicious with your briskets, barbecue, and grilled chicken.
Ingredients: Ketchup, apple cider vinegar, molasses, honey and contains 1% or less of salt, brown sugar, Xanthan gum, garlic powder, onion powder, and other spices.
North Carolina is known worldwide for its barbecue. The Pit is proud to continue this tradition by serving authentic whole-hog, pit-cooked barbecue at The Pit in downtown Raleigh's warehouse district.
About The Pit:
The Pit, created by legendary pitmaster Ed Mitchell and restauranteur Greg Hatem, is a celebration of all of the great culinary offerings of the Old North State. The Pit has made a name for itself as the destination for the state's signature cuisine. The pigs used to produce the barbecue are all raised in North Carolina using free-range farming practices, and the freshest of the state's bountiful produce is featured in the starters, sides, and desserts.