---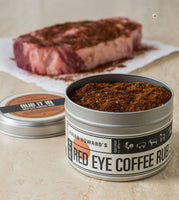 Coffee is not just for your mug or dessert! Explore the savory applications of coffee with this delicious spice rub. Give a boost to your favorite protein's flavor profile and your energy level!

For 10 years, Vivian Howard has rubbed these spice blends into everything you can imagine at her restaurant, Chef and the Farmer. Familiar but different, Rub it In spice blends should be staples in your pantry too.
About Vivian Howard of A Chef's Life:
A Chef's Life is a show about people, place, tradition and family told through the lens of food.
Sometimes called a cooking show, other times called a reality series (a description that makes Vivian Howard cringe),  A Chef's Life is a deeply personal labor of love intended to improve people's lives. She hopes watching it brings people closer to their food source. She hopes it ushers in memories spent around the table or in the kitchen. She hopes it inspires us to cook and to look for teachers in unlikely places. And ultimately she hopes it teaches us that we are more alike than we are different. She realizes that's a hefty burden for a tv show, but that's what she's working toward. And if awards are an indication that they're at least doing something out of the ordinary, then we're on track because A Chef's Life is the only television series ever to win a Peabody, an Emmy, and a James Beard Award.